European Challenge 2019
France
Moto Gymkhana European Challenge 2019
The French Moto Gymkhana organization is proud to be the organizer of 2019 Moto Gymkhana
European Challlenge. You all are kindly welcome to come and participate.
Pre-Registration link: www.motogymkhana.eu
Email communication should be addressed to: motogymkhana.france@gmail.com
Facebook link : https://www.facebook.com/Moto-Gymkhana-FR-745755475487717/
MAIN RULES FRENCH SPORT ADMINISTRATION
The event is controlled by local government authorities, so in addition of Moto Gymkhana rules, the
French administration imposes to respect some main rules for Motorcycle Sport.
Each participant must have :
a medical certificate of authorization in your local language or english, to practice motor sports of
less than one year old (you should give it at the office) ;
a dB Killer because the motorbike exhaust must be less 95db
a fire extinguisher close of your bike on the Paddock
a helmet on the head and gloves if you ride your bike on the road / paddock / race place
We will subscribe an "organisation insurance" for the event to guaranty the damage you could cause to other people. Because during a  competition event, the road insurance of your motorcycle is not valid, we inform you that you could choose an individual health insurance for the
damage you can cause to your own body during competition (injury, hospitalization, handicap, death). Usually the cost of the individual Insurance is 15€/day
Expected time schedule
| | |
| --- | --- |
| Friday may 31th | the arrival day |
The registration office is open at 15:00
Free evening for participants networking
| | |
| --- | --- |
| Saturday June 1st | the training day |
Possible arrival of participant who cannot be in place on Friday
| | |
| --- | --- |
| 09:00 | organization briefing |
| 09:30 – 12:30 | Technical control & free practice (announced obvious rules will apply) |
| 12:30 – 14:00 | Lunch Time (the training place will be closed) |
| 14:00 – 17:30 | free practice and qualification GP8 for Sunday Course Order (announced obvious rules will apply) |
| 17:00 – 18:00 | optional group for Karting race (the karting place is 200m from Moto Gymkhana place) |
| | |
| --- | --- |
| Sunday June 2nd | the competition day |
Last late registration is possible till 9:00
09:00
competition briefing and track walk-trough
10:00
competition starts (1st round)
12:30 – 14:00
Lunch Time (the training place will be closed)
14:00 – 16:00
competition starts (2nd round)
~ 20 minutes later
 winners ceremony
all results are available
until 17:30
free practice
The schedule is subject to change and can be modified by organizers.
Minor changes are to be announced in place.
Any major change will be communicated.
Location
Circuit de Bresse – 460, route de Milleure 71580 Frontenaud (France)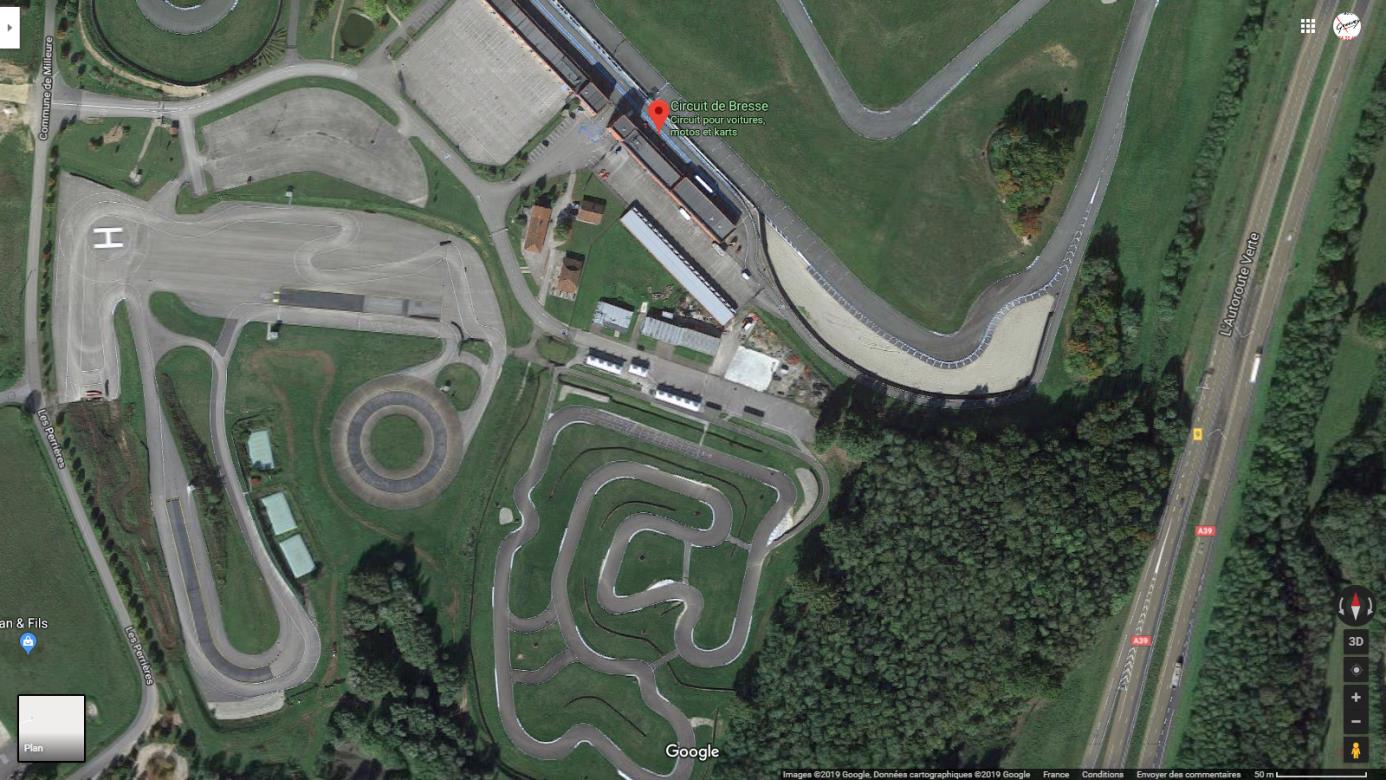 The Europeen Challenge is being hold at Circuit de Bresse. The area includes space for camping in tents, caravans, campers. There are all usual utilities at the site including area for showers, toilets and restaurant (lunch).
Riders order for the race day will depend on the GP8 time. This qualification will be done on Saturday afternoon. Then the faster rider will have number 1 and the slower will have the higher bib number. The 1st and 2nd round on Sunday will start with the slower rider.
Fees to Pay
(to pay when you'll receive the email after your pre-registration)
Money in DepositRegistration link, because of some technical problems we use the website of the dutch organisation : www.motogymkhana.nl/ec2019
Email communication should be addressed to motogymkhana.france@gmail.com
Money in Deposit(to give at the office when you arrive and it will be back)
| | |
| --- | --- |
| basic competitors participation (competition fee) | € 60 / rider |
| accommodation in camp Friday / Saturday / Sunda | € 10 / night / person |
|   |   |
| breakfast / lunch / diner | € depend on number of people |
|   |   |
| Deposit for the Bib jersey to give bakc after competition | € 20 / rider |
| Deposit for the paddock / camping place (about 7 meters) | € 50 |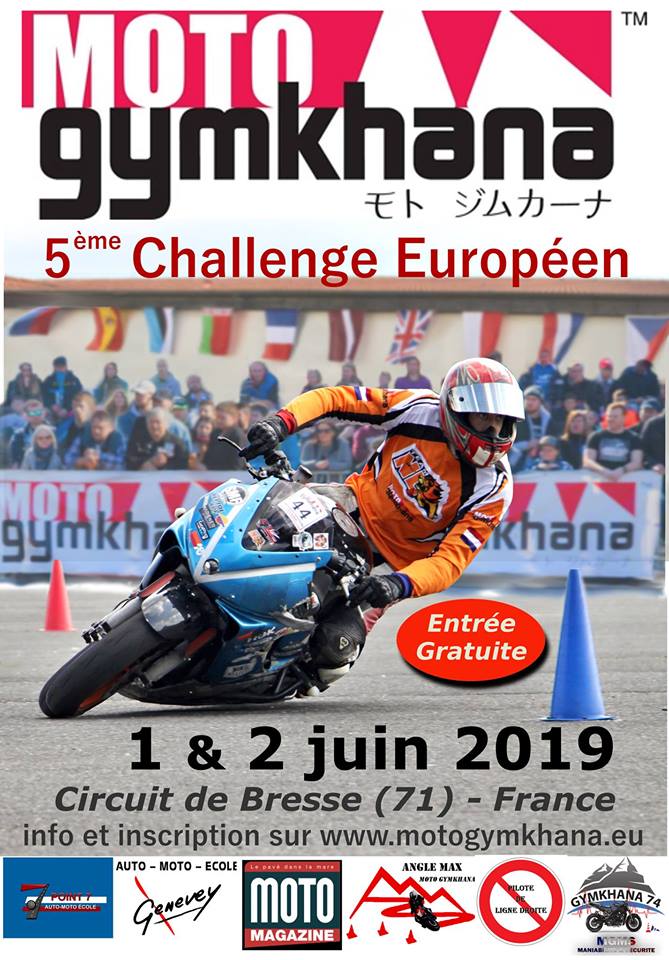 Challenge Européen Moto Gymkhana 2019 - Circuit de Bresse-France
Pre Registration
Here you can pre-register yourself for the European Challlenge of 2019. Please fill in all information and make sure that you've filled in a valid email address. After your pre-registration you'll receive an email with rules and payments details, only after your payment, your registration will be valid.
Please include in your pre-registration all information about camping night for you and your friends  and families coming with you.
Rules
When you register for the European Challenge, you agree to the rules of Moto Gymkhana. All rules will be send to you by email. Please contact us : motogymkhana.france@gmail.com if not all rules are completely clear to you.
number of riders LIMIT      
Please note that we will have a maximum number of riders we can accommodate in the race. We don't expect that we will have to turn riders down, but if it turns out we'll have more riders than we can have, there will be a maximum number of riders per country. Again, we don't expect we'll have too many applicants. Aiming for 100 riders, from 10 countries, we can have at least ten riders per country, or more when some countries have fewer. Again, probably nothing to be worried about.
4 Japanese guests: 
Hana Ko